! orngblue.html !>
ORANGE THEN BLUE
<!====================================================================================>
Not only do they surprise you with original treatments of compositions by noted masters from Duke Ellington to Bill Evans to Albert Ayler; Orange Then Blue draws upon a host of non-jazz sources as well -- Bulgarian chorales, Irish reels and Bolivian folk music, for example. Orange Then Blue, a 12-piece ensemble formed in 1984, is certainly one of the most intriguing and most prolific of big bands to come out of the Boston/New York scene in recent years. Performances at top venues in NY (Knitting Factory, Fez Under Time Cafe) and Boston (Regattabar, Scullers), as well as world renowned jazz festivals (Berlin Jazz Festival, Music Meeting in Nijmegen, Holland, Boston Globe Jazz Festival, Discover Jazz Festival and Canadian Jazz Festivals in Montreal, Ottawa, Vancouver, Toronto, Edmonton and Calgary) along with tours of Turkey, Cyprus and Syria have summoned enthusiastic responses from audiences and critics alike.

In addition to performing on their own, Orange Then Blue has collaborated with such great artists as George Adams, John LaPorta, Howard Johnson, Tim Hagan, George Garzone, Dave Douglas, Night Ark w. Ara Dinkjian, and vocalists Mili Bermejo, Dominique Eade and Olga Roman. Orange Then Blue has released four recordings of their own on GM Recordings, and they have participated on two other releases: one with renowned composer Gunther Schuller (Jumpin' In The Future -- GM) conducting his own jazz compositions and arrangements; the other with Mexican vocalist Mili Bermejo (Casa Corazon -- Green Linnet/Xenophile).

The latest Orange Then Blue recording was released as a 2-CD set entitled While You Were Out..., (released in April '94). It was recorded at the Banff Centre for the Arts, Banff, Alberta, Canada during a two week tour of Western Canada in 1992. The response from radio and press have been extremely positive with reviews from Jazz Times, Ismus, Cadence, Coda, Jazziz, Pulse, Jazz Journal and others. The November '94 issue of Musician Magazine picked While You Were Out... as one of the top 40 Best New Jazz CD's of the year!

For further information regarding bookings and educational seminars or for a cassette tape of Orange Then Blue's work, contact George Schuller at (718)330-0395 or write to: Orange Then Blue, 542 Clinton St, Brooklyn, NY 11231 or Email: odetobe@pipeline.com. For immediate requests or replies our fax number is (718)330-0043. <!====================================================================================>
---
"OTB -- the name is a contraction of a Charles Mingus song title -- delves into many of the expected sonorities and the rich array of tonal colors made possible by its instrumentation. But they ignore the traditional big-band repertory to concentrate on original compositions and such oddities as a new arrangement of a piece by the avant-garde visionary Albert Ayler. What's more, the band's arrangers refuse to box themselves into the formula of ensemble theme and solo variations; instead, the soloists interact with each other, and with the band as a whole, in ways that offer what amount to postmodern variations on concerto writing. As you might guess, OTB doesn't fall into any expected format when it comes to compositional form either, and the music develops with an organic integrity unique to each piece. Perhaps none of this proves so surprising when you learn the band's leader is drummer/composer George Schuller -- son of iconoclastic composer/critic/analyst/author Gunther Schuller -- but is still places OTB in a rarefied camp among the world's jazz orchestras."
-- Chicago Reader

"Orange Then Blue can swing as hard as anyone... expanding the tradition... ambitious nature... the band pulls off its ideas."
--Musician

"I can think of no better example of all that contemporary jazz has to offer."
--Cadence

"...increasingly tight, challenging music. Five albums, many tours and kudos later, OTB has moved into pinpoint ensemble focus."
--Downbeat

"The musical maturation of Orange Then Blue continues at a startling pace... a wonderful sense of spontaneous fun..."
--Boston Globe

"flawless and often hilarious... the band has grown even earthier in their world music extrapolations.. the continuing evolution of a first-rate ensemble."
--Boston Phoenix <!====================================================================================>
---
Available on:


Order your copy today.
---
"This recording captures the creative spirit of music. The compositions and orchestration support some of the most personal and outstanding young jazz musicians today. It's simply exhilarating for me to hear such a powerful yet intimate ensemble -- truly an outgrowth of the Ellington/Mingus tradition."

Joe Lovanao <!====================================================================================>
---
Dave Ballou, Cuong Vu, Dave Douglas -- trumpets
Matt Darriau, Chris Speed, Bob Bowlby -- reeds
Rick Stepton, Peter Cirelli -- trombones
Mark Taylor -- french horn
Tim Ray -- piano & synthesizer
Paul Del Nero -- bass
George Schuller -- percussion
<!====================================================================================>
---

SCATTER                               Speed
KAMIKAZE                              Taylor
GANKINO HORO                          Traditional/Bulgaria
WHILE YOU WERE OUT...                 Schuller
SLOW BOAT TO MECHANICSVILLE  407k     Douglas
LA PARTIDA  464k                      Bonet/Venezuela
EVANESCENT                            Schuller
FLYPAPER                              Clark
TRUTH IS MARCHIN' IN                  Ayler
THREE REELS & AN AIR
SEQUENZ                               Ales
WHILE YOU WERE OUT... encore          Schuller

These sound files were edited at MacIntyre Music to give you a feel for the musical range that each song encompasses, and compressed to 8 bit, 8 Khz sampling rate. Sound helper applications are available to play back sound on your system, most of which are either free or shareware. <!====================================================================================>
---
George Schuller (drums, composer, arranger, producer), a native of New York City, moved to Boston in 1967 where he was raised and educated and later received a bachelor's degree in Jazz Performance at the New England Conservatory of Music in 1982. For the next twelve years, Mr. Schuller was a fixture on the Boston area jazz scene performing with Herb Pomeroy, Jaki Byard, Jerry Bergonzi, George Garzone, Mick Goodrick, Ran Blake, Billy Pierce, John LaPorta and Hal Crook. In 1984, he founded the twelve-piece ensemble called Orange Then Blue which has recorded several acclaimed albums, including 1994's While You Were Out....(GM Recordings). The group has toured extensively and had recently performed at the 1995 Berlin Jazz Festival and The 11th Music Meeting in Nijmegen, Holland. Mr. Schuller released his first album as a leader in 1990, entitled Lookin' Up From Down Below (GM), with special guests Joe Lovano, Gary Valente and Tiger Okoshi.

Mr. Schuller has also performed and recorded with many of today's leading musicians including Joe Wilder, Britt Woodman, Mose Allison, Lee Konitz, Danilo Perez, Joey Calderazzo, Kenny Werner, Tom Harrell, Bill DeArango, George Adams, Fred Hersch, Harvie Swartz, Attila Zoller and The Smithsonian Jazz Masterworks Orchestra. Other recordings include Lisa Thorson & Co., Eugene Maslov Trio, Rob Levit Group, Frank Carlberg Trio and Miles Donahue. In 1995 Mr. Schuller appeared on Joe Lovano's critically acclaimed album entitled Rush Hour with compositions and arrangements by Gunther Schuller. It was voted "Album of the Year" for 1995 by Down Beat Magazine. Mr. Schuller has also recently performed with Joe Lovano and Gunther Schuller at Jazz at Lincoln Center with artistic director Wynton Marsalis.

Mr. Schuller has produced several albums including recordings by Orange Then Blue, Ed Schuller, Jazz Composers Alliance, Mili Bermejo and Lisa Thorson. His compositions and arrangements have been recorded by Orange Then Blue, Ed Schuller, Mike Metheny, Your Neighborhood Sax Quartet, Wilder/Woodman/LaPorta Sextet, Mili Bermejo and Lisa Thorson. Festival appearances include Ravinia Jazz Festival, Discover Jazz Festival, Festival of Music at Sandpoint, Boston Globe Jazz Festival and festivals in Montreal, Vancouver, Toronto, Edmonton, Calgary, Ottawa, Rimouski and Saskatoon. In 1987, he received a Massachusetts Artist Foundation Fellowship for Music Composition as well as a 1995 NEA Composition Grant.

Mr. Schuller presently resides in Brooklyn where he free-lances in the New York City area.


---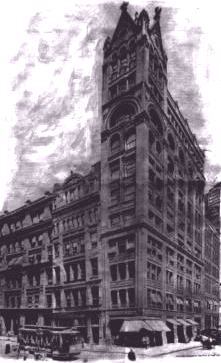 (C) Changing Tones. All rights reserved.
E-mail us with questions or comments.
Page design by MacIntyre Music