! mitchell.html !>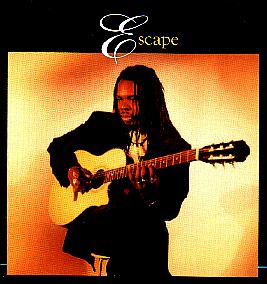 E S C A P E
from Guitarist LARRY MITCHELL
Available on:

(String Time Music)
---
On his latest effort, guitarist Larry Mitchell demonstrates that his purr is as vigorous as his roar. Those familiar with Mitchell's fiery electric playing know the man can wail with the best of them. On Escape, Mitchell breaks out the acoustic for a set of lush, peaceful, new-age flavored instrumentals. Peppered with lots of spunky, silken acoustic solos, his compositions are both graceful and rhythmic and are sure to lull the listener into a mellow daydream. Among the album's many choice cuts is 'River Run Deep' a beautiful, ethereal Irish-flavored folk piece where Larry and his guitar take off into some higher realm of consciousness. A great escape.
- Morty Kleidermacher

New York guitarist Larry Mitchell, who has recorded with Ric Ocasek, and toured with Tracy Chapman, Billy Squier, Spanish pop star Miguel Bose, and countless artists in the New York, East Coast area, has just finished his third solo recording called Escape (Acoustic Passages Vol. 1).

This time Larry has taken a different path with his music, replacing screaming distorted leads with laid back slightly groovy nylon and steel string acoustic entwined guitar lines. Sometimes with just strings underneath other times with a little percussion and a bevy of guitar tracks.

Escape has one vocal track "Tears of a Woman" tenderly and beautifully sung by Paula Banfield and Roger Gillen. In a background instrumental sense, the vocals add a bit of mystery and freshness to the mix. The song leans towards an almost Irish folk vibe.

New Hampshire Bassist Mark Bond, on loan from the New England rock band Acid Bran brings great low end and smooth lines to six tracks on Escape.

Escape was mixed and mastered by a young up and coming engineer on the rise, Jeff Coplan. Jeff has been writing, producing and recording with some very talented new artists that you'll hear more of very soon. Jeff has also engineered major records, movie sound tracks and commercials; he's in demand!

The CD art work features some amazing photographs taken in Mexico and New Mexico by photographer Paula Banfield as well as the cover photo. These photographs definitely portray on the outside package, the music that's on the disc inside. The package was beautifully put together by graphic artist Cheryl Green.
---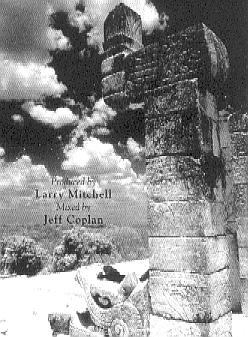 "Tone, taste, technique. And you thought there were no guitar players left!"
- David Sexton WVJO, Jacksonville, IL

"Great guitar work! Play it and share it!"
- Greg Boeder The Blues Cruise, KDDX, Black Hills, SD

"...Mitchell is a wonder to listen to, and more than a little awe inspiring to hear live."
- Roy Abrams Island Ear

"...Musically, he takes the instrument's most significant and basic elements and manipulates them radiantly."
- Thomas Pascual Goodtimes Magazine

"...Larry Mitchell's incredible technique and command of the instrument are only overshadowed by his knowledge of melody, harmony and rhythm."
- Michael DeClos Guitar School

"...the New York based instrumental rocker has a rare knack for spinning long, coherent solos that grab listeners by the collar and carry them along for a joyride through chorus after incendiary chorus."
- Joe Gore Guitar Player

"Larry Mitchell walks away a winner...he bends music into a form any listener can understand and enjoy..."
- Billboard

"The songs reveal a fine sense of drama...with frequent changes in mood - from soft to loud, slow to fast, or earthy to airy."
- Jay Lustig Star Ledger

"In the realm of Guitar Wizards...add another name, Larry Mitchell."
- Jack Perry The New Voice

"...He's a true guitar hero. He manages to fashion both obvious and obscure influences into a powerful and original statement."
- Danny McCue The Musicians' Exchange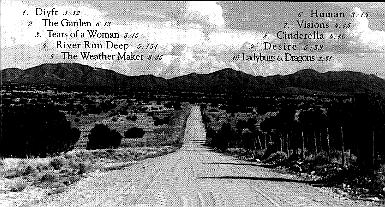 LARRY MITCHELL -- guitars, drum programming, keys & percussion
MARK BOND -- bass
PAULA BANFIELD -- vocals on "Tears of a Women"
ROGER GILLEN -- vocals on "Tears of a Women"
LINDA MARSO -- piano on "Ladybugs and Dragons"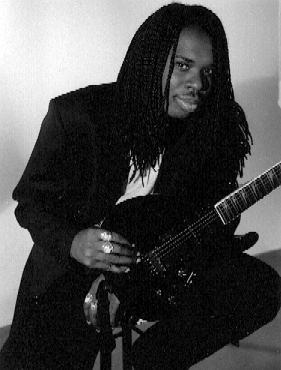 ---
DIYFT 173k
THE GARDEN
TEARS OF A WOMEN 151k
RIVER RUN DEEP 174k
THE WEATHER MAKER
HUMAN
VISIONS 180k
CINDERELLA
DESIRE
LADYBUGS & DRAGONS

All songs written by Larry Mitchell

These sound files were edited at MacIntyre Music to give you a feel for the musical range that each song encompasses. Each has been compressed to 8 bit, 8 Khz sampling rate. Sound helper applications are available to play back sound on your system, most of which are either free or shareware.
---

Go to the _CHANGING_ TONES_ Home Page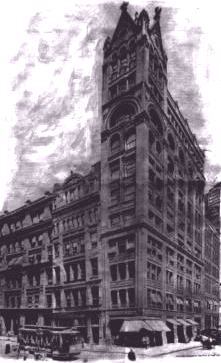 Hop into the _MACINTYRE_ MUSIC_ Elevator.
(C) Changing Tones. All rights reserved.
E-mail us with questions or comments. Updated 25-Apr-96.
Page design by MacIntyre Music